Facial Steam Teas
C$7.50
Please Do Not Ingest. The botanicals and salts are edible... the essential oils (in some cases) and kaolin clay are not. The information below is provided as guidance only from my own learning as an esthetician who has always believed in plant-based skincare. I started formulating my own products back in 2002 when as an esthetician I could not use chemical based skincare. That was long before today's culture and return to natural skincare. I had a clinical master herbalist working with me in my spa, I worked at a small apothecary here in Calgary, and I am presently on a brief hiatus from my enrollment in the Herbology 101 program at Wildrose College. Aromatherapy and nature and plant based self-care have stood the test of time. I have listed here, all of the ingredients and their properties which I believe to be accurate, however I ask that you not take it as medical advice, or a claim but rather my experience. By searching out the ingredients in the tea for the issues you are looking to solve, you should be able to customize your needs into one of the seven scents below. Add a candle, a wax melt, a bathbomb or bathsoak... and you are set for a beautiful self-care journey like no other. I hope you enjoy... and they come with this functional Japanese wood spoon!

Juniper Rose ~ Beautiful and decadent. Did you know Princess Grace of Monaco used to make her own rosewater and only washed her face with that rosewater? She had the most beautiful skin!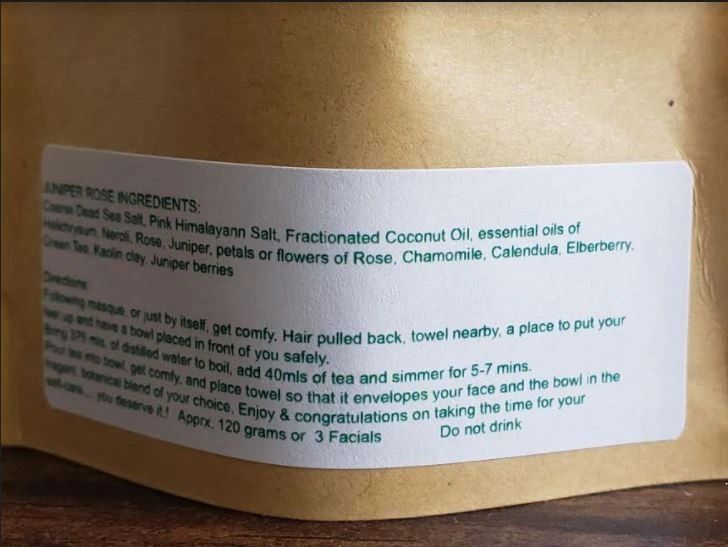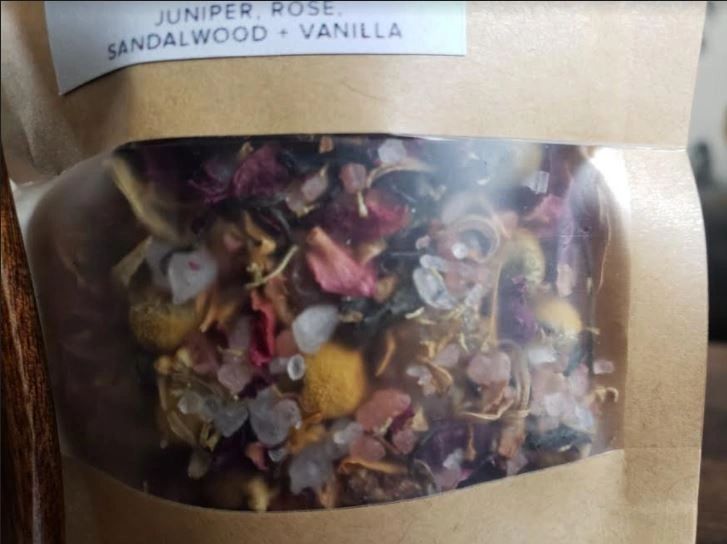 Zen Garden ~ The Everything Tea. The most muti-purpose blend. This blend can be used for combination skin or any type of skin type as it literally has everything in it as far as the floral botanicals go.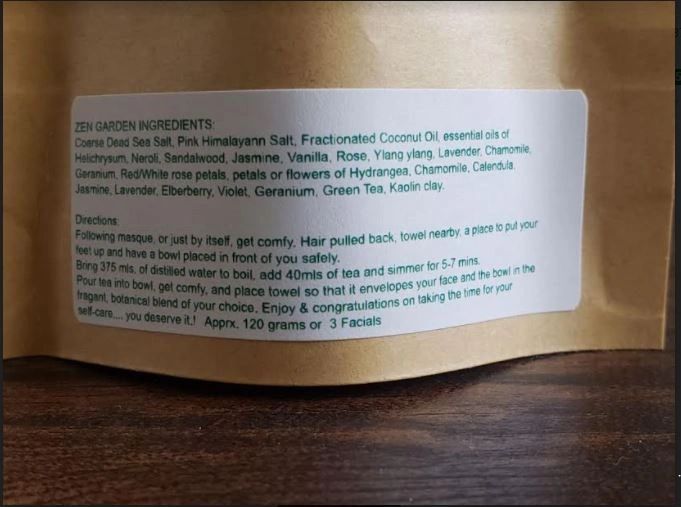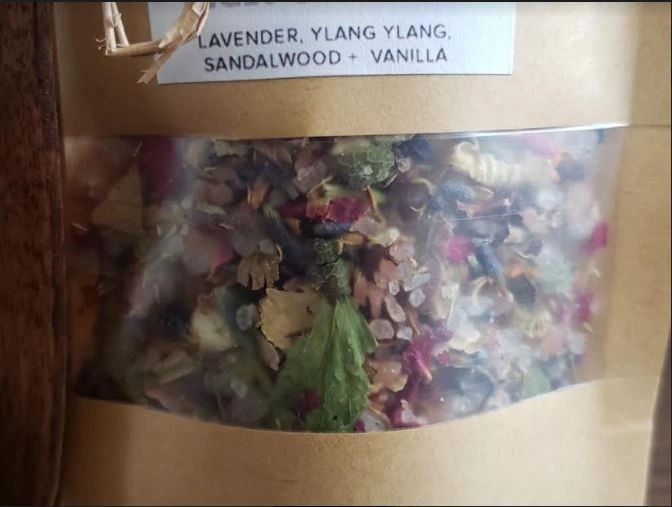 Lavender Love: Lavender and Lemongrass are mixed with Chamomile to make this ultra relaxing blend. This blend is truly amazing for migraine and insomnia sufferers. Lavender helps to constrict blood vessels which is how it works.... which is great for visible veins, etc.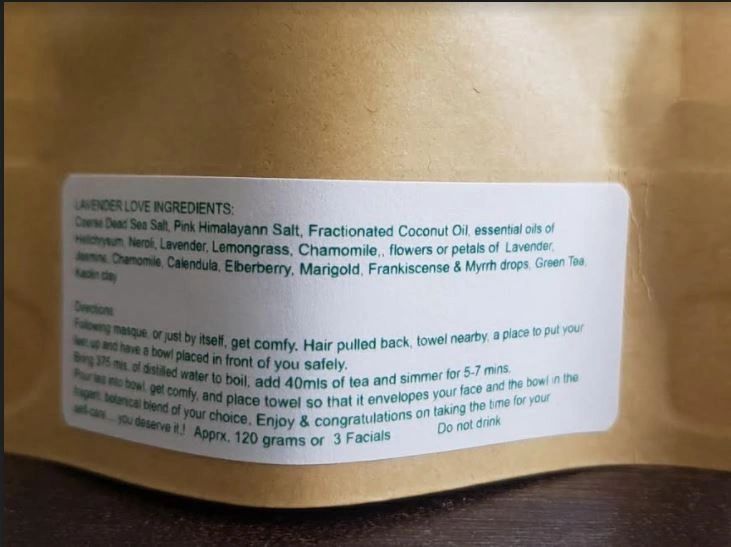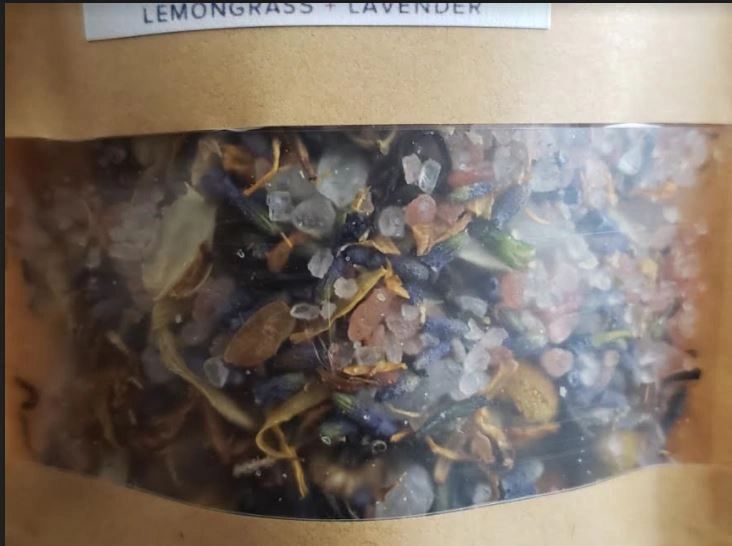 Amber Meditation: The purpose of this blend is to transport you to a place far away where alchemy is real and the desert is alive with merchants. The skin care benefits are just an added benefit! But.... the skincare benefits are truly amazing. Skin lightening and tightening....also smoothing of the skin are gifts from Sandalwood and Cypress essential oils. Cedar is a diuretic so very helpful in dealing with puffiness or bags under the eyes that we all suffer from, from time to time. This is a perfect anti-aging facial.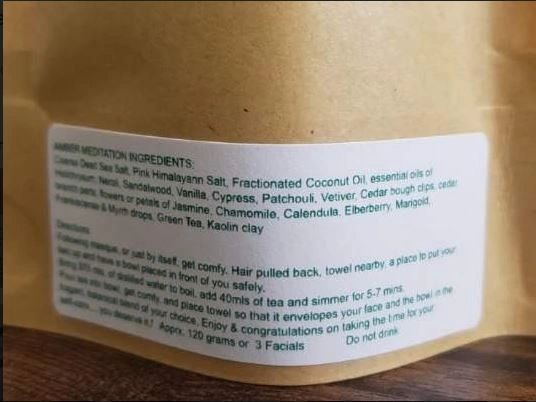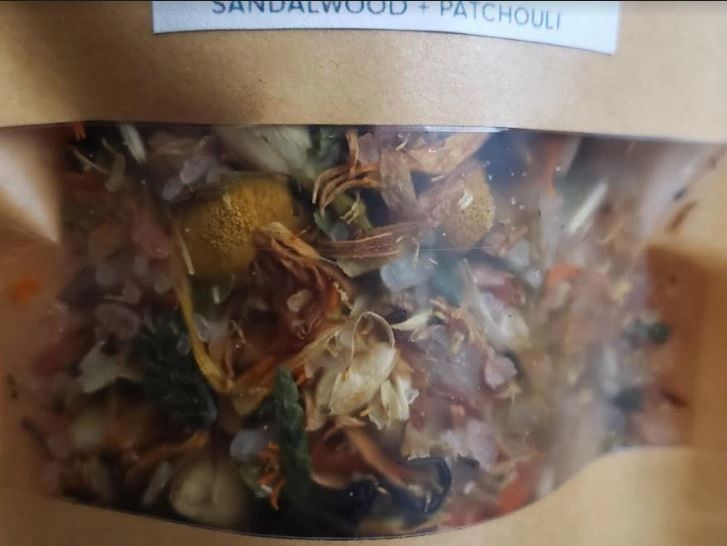 Violet Vitality: This blend smells much more like sage when it has been simmered due to the strength of the oils in the Mt. Pelion Sage. The violet scent is present prior to simmering however. I am working on finding a solution to this... however the sage is beautiful, just not a floral scent. The benefits of this tea are amazing and I highly recommend it.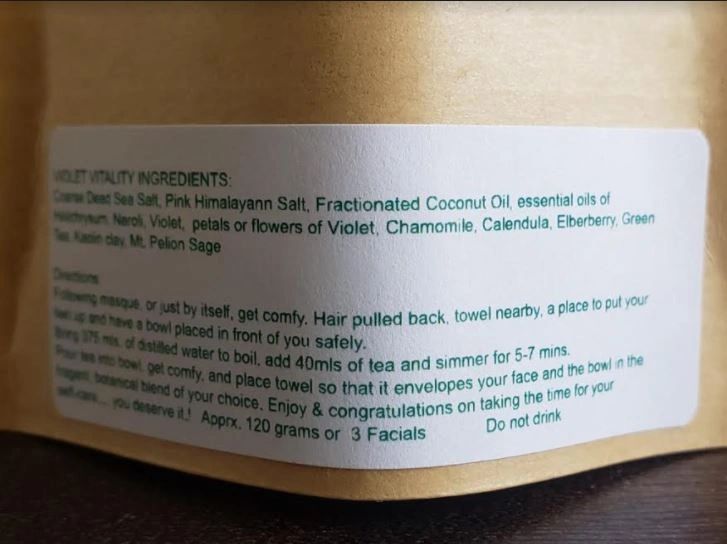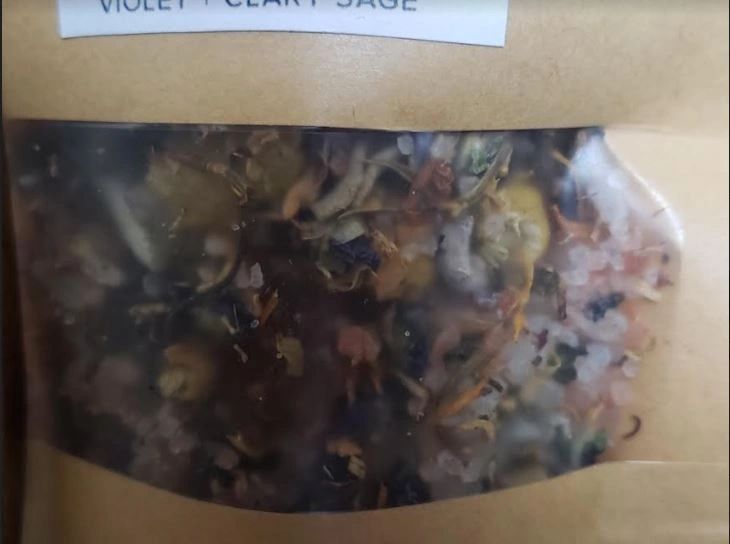 Jasmine Serenity: Perhaps the lightest of all the scents, and it has a sweetness to it without being "sweet" if that make sense. As a migraine sufferer, I sometimes find some flowers are so sweet I get a headache.... jasmine does not do that. It is soft, shy, and beautiful. Relaxing and massively anti-aging. It's kind of perfect. ;-)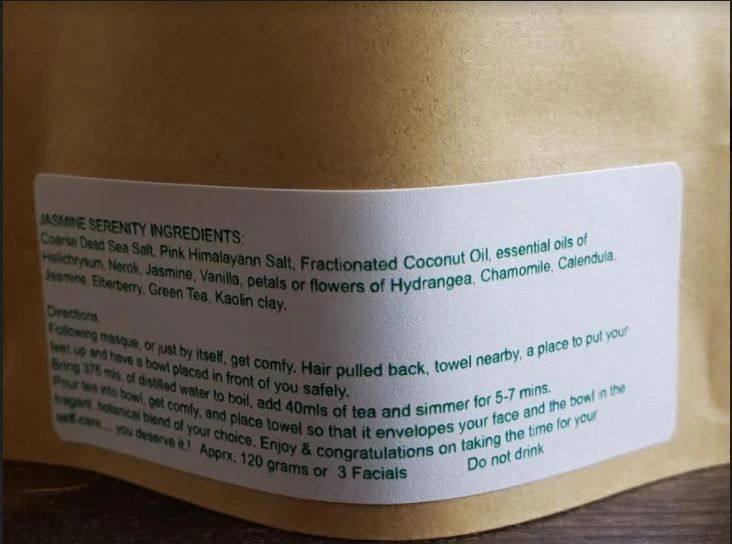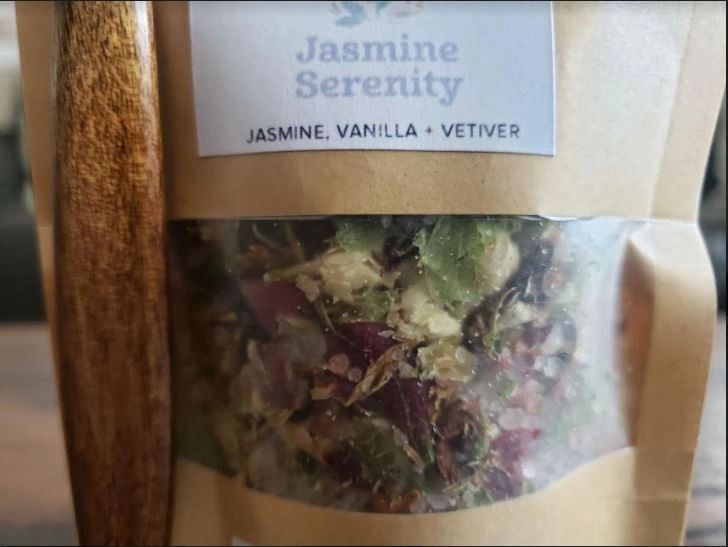 Mountain Retreat: This one takes you on a walk through the forest.... and also smells awesome just simmering on your stove! Good for acne sufferers, or may be helpful for sinus congestion too.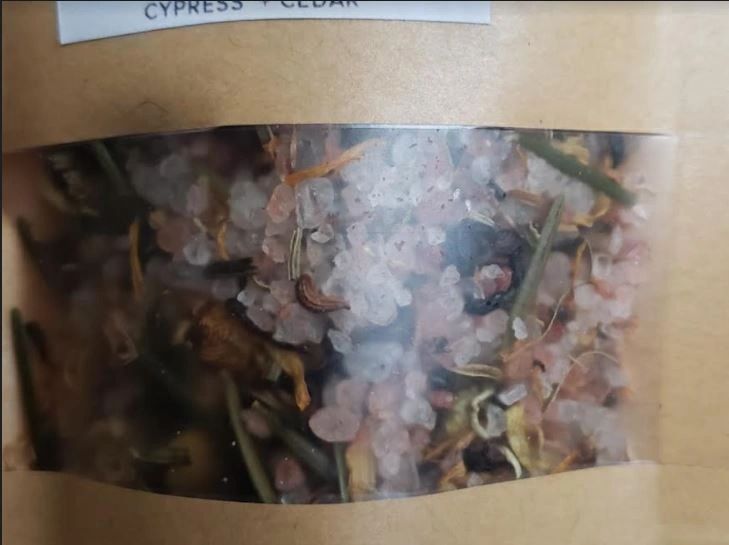 Rose: Did you know it takes 10K rose petals to make 1 drop of essential oil? Calms, soothes, astringent & antibacterial. High in Vit. C., and E. Reduces redness. Good for dry, oily or acne prone skin. Grouped as a precious essential oil.
Juniper: High in Vitamin C, helping with blood vessel function, collagen production, and is a powerful anti-inflammatory, anti-oxidant and anti-fungal agent.
Violet: Relaxing, soothing, anti-inflammatory. Can be used to help heal chafed, dry, or skin with abrasions. Aromatherapy benefits bring about inspiration, helps to relieve stress headaches, anxiety and nervousness, insomnia, is said to be helpful with bronchitis, rheumatism, sore throats, and can improve circulation. Has history as a spiritual flower due to it's tri-color.
Sage: Called the Master Herb - due to it's many abilities and properties. Aromatherapy benefits include offering balance, uplifting, soothing, strength, attentiveness, and memory enhancement. Skin benefits include elimination of toxins, calming, antibacterial, able to diminish blemishes, skin abrasions, and anti-inflammatory properties. Great moisturizer.
Jasmine: A night bloomer known for it's shyness and humbleness... while being a powerhouse of skincare goodness. Super anti-aging, anti-septic, and inflammatory
Ylang ylang: Relaxes muscle tightness, reduces wrinkles, Acne fighter, anti-bacterial, anti-inflammatory, need we say more?
Lavender: Can help lighten and tone the skin, helps with acne, treats wrinkles, known to treat migraine, induce relaxation, and help with insomnia and anxiety
Lemongrass: Reduces oiliness and shine on the skin, natural cleanser and astringent, fights acne, detoxifying to remove impurities, aromatherapy benefits include relaxation and inducing calmness of mind
Geranium: Anti-microbial, anti-bacterial, anti-septic, reducing breakouts and skin irritation
Hydrangea: Improves skin elasticity, texture, hydration, and reduces wrinkles. Supreme anti-aging effects!
Chamomile: Calming, reduces redness  and irritation, calms active acne, while helping to prevent future breakouts. Also known to induce sleep and relaxation and is often drank as a tea for that purpose
Marigold: The Happiness Flower - Cooling on the skin, helpful with sunburn, acne and breakouts. Helpful for nosebleeds, anti-inflammatory, and good for muscle and menstruation pain.
Calendula: From the marigold family. Anti-fungal, anti-inflammatory, anti-bacterial, this floromwer/oil can help with literally any kind of skin problem you may have. It is a miracle flower. 
Elderberry: Anti-aging, anti-wrinkle, protection against free radicals, promote blood circulation, packed with Vit. A, B, C, and E. Great for evening skin tone and firming skin.
Pine Needles: High in Vit. C, Anti-inflammatory 
Green Tea: The tea I use is Mao Feng Grade A Green Tea. Anti-microbial, anti-oxidant, anti-inflammatory. Contains polyphenols found in green tea, which are believed to help reduce sebum secretion which can lead to acne.
Dead Sea Salt: Rich in minerals, helps with exfoliation, calm inflammation, reduces allergens and microbes
Himalayan Pink Salt: Purifies pores, anti-fungal, anti-microbial, anti-bacterial properties. Helps to reduce or eliminate black heads, white heads, and breakouts
Kaolin Clay: Draws toxins, absorbs excess oils, restores skin after a breakout by nourishing with minerals
Helichrysum Essential oil: Rebuilds collagen from the inside, called the bruise eraser, nicknamed Immortelle or Everlasting because of it's anit-aging benefits. A daisy that grows on the shores of the Mediterannean Sea, that retains is shape turns strawlike when dried. Smells of honey.  The precious essential oil. :-)
Neroli Essential oil: Cleopatra bathed in this and soaked her sails with it when she travelled to see Marc Anthony. Known for it's confidence and self-esteem building aromatherapy properties for this reason. Anti-aging, anti-microbial, anti-fungal, anti-oxidiant. Rebuilds skin cells. Derived from the Orange blossom flower. Also a member of the precious essential oil family